Jessie James Decker Says She Still Gets Scared That People Don't Like Her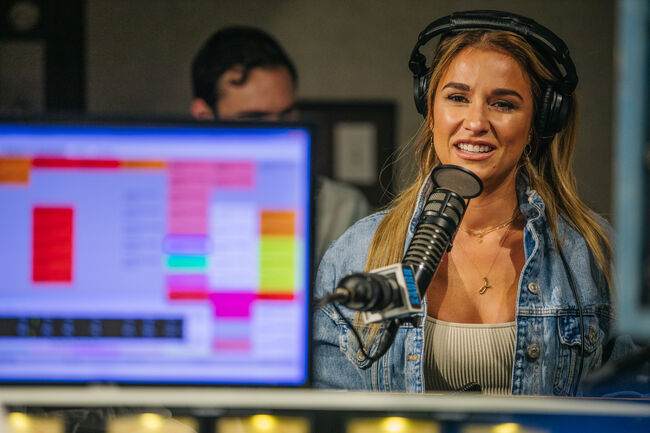 Jessie James Decker took a break from her busy schedule to join us in studio. The singer/song-writer, mother, wife, fashion icon, etc. has been hard at work. Between her new music, her children, her boutique, and other various projects, Decker wears many hats! One of those hats is an Air-force daughter.
Decker said growing up her Dad was in the Air-force, he still is, and because of that they moved around a lot. She changed schools quite a few times which caused her to become anti-social. She grew up assuming that when she walked into a room, people weren't going to like her. Bobby related to this saying he too moved around a lot as a kid and that caused him to have that same feeling as an adult; the feeling of walking into a room and no one is going to talk to you or want you there. Decker said she learned from this and when she still gets that feeling she channels it and uses that feeling to fuel her ability to work hard. She actually credited her husband, Eric, to her being able to accept that people do like her.
Decker wrote one of her newest songs about Eric called "I Need A Man." In this song she wants women to understand that you can be independent and strong, but also want your man by your side. Loving someone else doesn't take away from being a boss woman. Aside from writing her own songs, Decker also put her own spin on the hit song "Old Town Road". She said she sent the song to Bobby for feedback knowing that he would be honest with her. After not hearing back from him, she assumed it wasn't good. Days later she got tweets and texts from friends and fans saying they heard her version of "Old Town Road" on The Bobby Bones Show and loved it!
Watch the full interview with Jessie James Decker and her husband Eric Decker below! Plus check out our Instagram TV channel for her live performance of her version of "Old Town Road."

Bobby Bones
Want to know more about Bobby Bones? Get their official bio, social pages & articles on Bobby Bones!
Read more